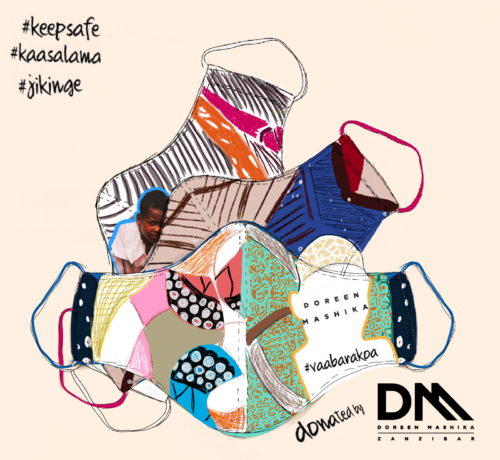 Protective reusable cotton face mask to help slow the spread of Covid-19.
In times of crisis, we need solidarity and cooperation—which is why Doreen Mashika is keen to help those in need. We're providing our customers with high quality, hand-sewn facemasks, made in our workshop in Zanzibar. And we're donating two face masks for every one that's bought by you to those suffering in Tanzania.
Doreen Mashika Zanzibar wants to help protect and prevent the spread of COVID-19. We've expanded our slow fashion range to include community masks that reduce the spread of the virus. All masks are manufactured and sold on a non-profit basis with 100% of profits being donated to vulnerable groups in Zanzibar and Tanzania.
In May 2020, thanks to your mask purchases we were able to donate to CEF Zanzibar School for orphaned & disadvantaged children, Muhimbili University of Health and Applied Sciences Dar Es Salaam, Welezo old age care home in Stone Town Zanzibar, WAJAMAMA medical and health centre, in Zanzibar. We were able to help individuals from these organizations to protect themselves and others from contracting COVID-19, saving lives as a result.
Let's continue to fight against the virus and protect those around the world by wearing face masks in public.